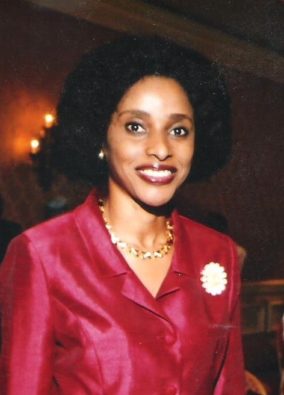 Arese Carrington, MBBS, MPH is a Medical Doctor, International Public Health consultant, Human Rights and Social Justice activist and author. She specializes in international public health programming and women's issues. She previously worked as an Associate Director of the Harvard School of Public Health's AIDS Prevention Initiative in Nigeria (APIN). She was responsible for creating the conditions which led to the initiative being funded with a $25 million grant from the Bill and Melinda Gates Foundation to fight HIV/AIDS in Nigeria.
She received her medical degree from the University of Ibadan in 1980 in her native Nigeria.
In 2000, she received a Masters of Public Health Degree from the Harvard School of Public Health. She was elected Class Marshal by her classmates and was selected by Harvard to deliver the Graduate Oration at the university's Commencement exercises.
Dr. Carrington was a practicing physician in Nigeria and worked for a time at the University College Hospital, Ibadan and as the medical advisor for a multi-national company. She subsequently set up her own company, Health and Medical Services (HMS), which provided industrial firms, diplomatic missions and others with advisory services on preventive health care. She was, simultaneously, the CEO of a commercial company she founded, which provided consulting and promotional services to multinational companies and foreign non-profit entities.
She has served as a consultant on HIV/AIDS and malaria prevention programs at the federal, state and local government levels in Nigeria. At the Lagos State Ministry of Health she worked with the Permanent Secretary of Health to design and implement AIDS prevention campaigns and to introduce HIV /AIDS education modules into the state's public schools. She also helped to set up a safe blood transfusion system as well as anti-malaria programs.
In addition to being the President of the board of United Nations Association of Greater Boston (UNA-GB); Dr. Carrington is a Trustee Advisory board member of Beth Israel Deaconess Medical Center (BIDMC) and a member of Museum of Fine Arts (MFA) Boston's Advisors. A descendant of Oba Ovonranwen who ruled the Benin Kingdom in the 19th century, she played a pivotal role in the opening of the MFA's Benin Kingdom Gallery.
As a member of the Board of the Pan African Health Foundation (PAHF USA), she was instrumental in ensuring the Foundation established Africa's first major auto-disable syringe factory in Port Harcourt, Nigeria. She has served on the board FATE Foundation (USA), where she often helped to screen young business school interns that go to help young entrepreneurs in Nigeria. While on the Advisory board of LYNX (Linking Youth in Nigeria through eXchange) she set up the HIV/AIDS prevention program that was used to educate students at a summer camp in Abuja, Nigeria.
Dr. Carrington is a public speaker. She is the author of "Malaria in Nigeria" published in the Fall 2001 issue of the Harvard Health Policy Review. She also authored, The Female imperative in the New Africa, University of Benin, Eminent person Lecture series 2015. Her memoir "Defend the Defenseless" was published in 2017.
Awards and honors she has received include, Lifetime Human Rights Award from the City of Newton in 2014, State Senate Official Citation from Massachusetts State Senate and House of Representation Official Citation from Massachusetts State House of Representatives for being a life-long advocate of human rights in the community and around the world. She also received an Intergenerational Humanitarian Award from her alma mater alumni network –University of Ibadan alumni global network (UIAGN). In 2018 she moderated a panel discussion on Healthcare in Africa at the House of Commons of the United Kingdom. The History Makers interviewed her in 2016 for their Library of Congress archives.
She is married to Ambassador Walter Carrington the former United States Ambassador to Senegal (1980-1981) and Nigeria (1993-1997).